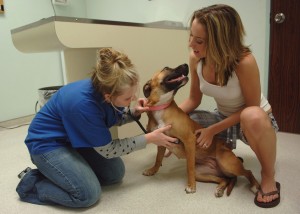 A recent discussion in the comments section on a post here led me to think that we probably need a thread about what happens in the body with CIL.  Symptoms of CIL can be very confusing, and I think a more detailed understanding can be helpful.
There are a number of things that happen with this disease that affect how your pet looks and feels.
This is a protein-losing disease, and the loss of protein is a big part of what makes this a "wasting" disease.
Briefly (and somewhat simplified), the way it works is this:
The intestinal lining contains specialized lymph cells, called "lacteals," and their job during digestion is to collect up lymphatic fluid that brings specific nutrients, such as protein, into the bloodstream where they can be used by the body as nutrition.  

In CIL, the lacteals are inflamed and distorted in shape (distended) and this impairs their ability to bring these nutrients into the body.  

A direct cause of lacteal distention is exposure to dietary fat.  
A direct result of lacteal distention is the inability of the body to take in certain nutrients and, especially, proteins.  
Therefore, when the lacteals are distended, your dog's intestines are functioning improperly, and key nutrients simply pass out through the body as though they were not being consumed at all.  
This is why the single most important thing to do is get the lacteals back to their normal shape, and the way you do this is by reducing the exposure to fat in the diet and reducing the inflammatory response, by changing foods and giving steroids.
Inappetence (not eating) is one of the most frustrating and commonly discussed issues on this blog.  It is not unusual to have owners come here saying something like, "My dog was diagnosed with CIL, now she isn't eating, and she's losing tons of weight, and I just want to get her to eat!"
Many owners who see this rapid weight loss really just want to get their dogs eating again, believing that the weight loss will stop once they do.
From the above bulleted list, you can begin to see that it really isn't that simple.  If you have ever had a severe intestinal flu with symptoms similar to those your CIL dog is displaying, it isn't too hard to imagine why your dog might not have an appetite.  Here are a few things to consider:
Protein loss leads to muscle wasting, because the body will rob protein out of muscle tissue when it doesn't get it through the diet.

The body really needs protein, so, once the body gets desperate enough to rob the muscle tissue, wasting happens very rapidly, and leads to very large and fast drops in weight, accompanied by profound lethargy.  

The muscle wasting, lethargy and weight loss will continue unabated until the intestines start absorbing protein through the lacteals again, no matter how much food your dog eats.  
From this, we can see that we really need to get the intestines functioning properly again in order to halt the disease.
Because the weight loss is so dramatic, many people, understandably, believe that eating at all costs is the solution to the problem, and will be tempted to feed inappropriate foods in an effort to entice their dogs to eat.  I have even seen veterinarians fall prey to this temptation.
In truth, the last thing you want to do for your CIL dog is to tempt it with fatty and inappropriate foods.  You need to recognize that even the smallest morsel of fat can be deadly.  I say it again and again, but I cannot overstate that very strict adherence to an ultra low-fat diet is the single most important part of your treatment plan.
A much better approach to inappetence is to try stomach-soothing medications.  Again, think back to how you felt the last time you had a major digestive upset.  You didn't want to eat until you started to feel better, and neither will your dog.
To soothe the stomach and digestive tract, famotidine (Pepcid) can be given at a dosage of 2.5 mg per 10 lbs of body weight.  I've also used slippery elm and supplements containing that, and other soothing herbs. Just be cautious that anything you give is very low in fat content.
Anti-inflammatory medications, such as steroids, will likely be prescribed, and most of us would love to give these in a treat or a piece of cheese, but I caution against this.  Again, even tiny amounts of fat are more than enough to keep the lacteals inflamed and distended.  Instead, crush up the medications and give them using an eye dropper or something similar (check with your vet first, because not all medications should be crushed).  The reality here is that your dog is very sick, and you may have to force medicate for a few days in order to get the inflammation under control.
Hopefully, one or two days of anti-inflammatories and stomach soothing medications will be helpful in getting your dog to find her lowfat diet somewhat tempting again, beginning the road to remission.
Louie's mom is now retired from her previous work at the University of California, Davis.  She works part-time as a pet sitter, caring for others' pets in their absence, and functions as the admin of the Canine Lymphangiectasia Educational Support Group on Facebook.  Donations through PayPal help her find the time to continue to provide information and research to others struggling with CIL.  If you find this information helpful, please consider a small donation.  Thank you.