Canine Intestinal Lymphangiectasia 102: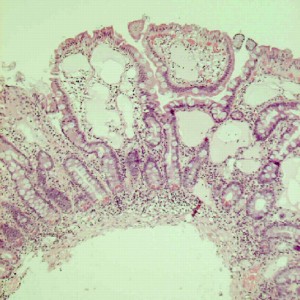 Read Canine Intestinal Lymphangiectasia 101 .
Seriously!
I love that we're all talking about this disease, but it's good to read everything here, too.
I don't have a lot of time to spend here, so I've tried to put the information that I've learned in a place where it is available to everyone.  If I don't respond to every question here, it might be due to the fact that your answer is already here.
A few quick reminders:
Don't feed a dog with primary CIL a high fat diet.  ULTRA low fat and HIGH protein is the way to feed.  If your dog improves on a fatty diet, your dog does not have primary CIL, but may have CIL secondary to IBD.
If things aren't working, eliminate chicken.  It's often not tolerated well.  Lists of well-tolerated, low fat foods can be found in several posts here about feeding.
Protein loss causes muscle wasting and you will not get weight on a CIL dog until you get the intestinal protein loss under control.  DO NOT feed fatty foods to put weight on.  You will kill your dog quickly that way.
STOP worrying about grains and raw foods and corn-free and every other trendy feeding advice you've ever heard.  NONE of that will help your CIL dog, and holding fast to those trends while refusing to feed what does help will quickly kill your dog.  Feed what works and stick with that until they day they die– hopefully from something other than CIL.
It can take several months to find what works and get your dog stable.  Don't overreact to a lack of progress.  Steady wins this race.
Mashed potato flakes (just plain potatoes, nothing fancy) are your best friend.  They contain no fat, therefore you can cut back the fat content of any meal simply by adding potato.  If your food isn't working and you think it's the fat content, you can experiment with adding potatoes until you find a ratio of food-to-potato that works for your dog.
What you've really found by doing that is a percentage of fat that is tolerable for your dog.  You may not have a number, but you do have a feeding success, and that is what counts.
Once you reach stability, you may have to add one or two meals per day to keep your dog from losing weight.
If your dog does not eat his/food, it's probably because of indigestion.  DO NOT start swapping foods to encourage eating.  Instead, give a little pepcid to control the tummy ache.  You probably wouldn't eat, either, if you felt as bad as this disease makes your dog feel.
Feel free to add your own simple advice in the comments section.  What has worked for you that every CIL owner should know about?