I've been using two products lately that I wanted to draw your attention to, because they do make a difference.
A while ago, Louie started having chronic soft stools again, with his stool looking much the same as the food that went into him.  I'd used these products before, but had backed away from them when things started to settle down.  We're now using them again, with good results.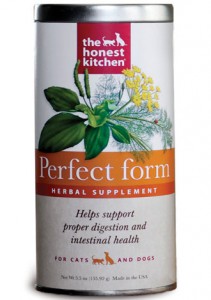 1)  Perfect Form by The Honest Kitchen:
I don't think I can rave enough about this product.  As the name cleverly implies, the product is designed to improve intestinal health which will, in turn, improve the quality of the stool.  I am adding this now to every batch of dry ingredients I mix up, in fairly good amounts, and his stools (while not always perfect) are much improved.  The rapid weight loss that we usually see when his stools get soft has also stopped.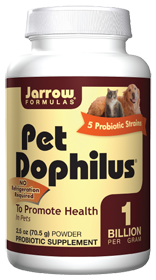 This is a probiotic which is made by a company known for their premium quality supplements for humans.  Probiotics help to repopulate the intestines with "good" bacteria that are often lost through treatments with antibiotics or through other means.
If you are having problems getting the stool to firm up, even with the other dietary suggestions listed here elsewhere, I strongly encourage you to give these supplements a try.
(I have no financial interest in either company, by the way).