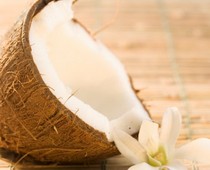 I've done a lot of griping over these past two years about the use of Medium Chain Triglycerides in this disease.  One of the things that bugs me the most about this is that they aren't even meant to TREAT the disease.  They are meant to add calories and fat to the diet, to aid in digestion of fat soluble nutrients.  But they won't make your dog recover from CIL and they may, in fact, make your dog worse.
After multiple attempts to get this information across on the CIL forum, I eventually realized that I needed to back up, start at the beginning, and explain my position on this all the way through.  I wrote this post:
You may be asking yourself why I am always going off about this issue of MCTs and coconut oil. I realize I owe a full explanation of this to the group, and I probably have only given bits and pieces of my reasoning in various threads around this forum. I'm going to try to pull my thoughts and experiences together in one place.

First, my own experience. I wrote about this in another post, so I'll repost this here, with a little embellishment:

Quote:

Back when Louie was first diagnosed, I looked up everything I could find on the internet about how to approach this disease. There was no forum like this one at the time. MCTs (and coconut) oils kept cropping up in all the various places I'd read, and I couldn't understand why our vets did not suggest these for Louie. I got very upset with the fact that the vets at UC Davis were not prescribing this for him, so I (foolishly) decided that I should take matters into my own hand and give them myself. Well, of course, they made him sicker, and so I did more reading here at work, where I have access to veterinary journals online, and as I read more I began to discover why, and to discover that the most recent papers on their use recommend against them.

So, that is our anecdotal experience with this particular treatment. The vets here at UC Davis are working within the framework of the most recent protocols, and in my opinion, they knew better. I foolishly took it upon myself to think that I knew better, and Louie was the one who suffered the consequences.

One of the vets here has given a nice talk to the World Small Animal Veterinary Association, where he specifically talks about this. His name is Stanley Marks, and his paper is one that I frequently cite here because it is easily accessible to anyone and you do not need access to scholarly journals to read it. You can read it here:

http://www.ivis.org/proceedings/wsava/2 … 21_abs.pdf

Here is what Dr. Marks, a veterinary researcher and renowned expert, has to say about the use of MCT (which includes coconut oil):

Quote:

Administration of medium chain triglycerides (MCT's) to enhance the caloric 
density of the diet are not recommended due to their unpleasant taste and 
potential for inducing diarrhoea. Recent evidence also suggests that MCT's 
are not transported entirely via the portal circulation to the liver, and can 
exacerbate the lymphangiectasia.

So, after making my own dog sick with this stuff, I found this paper which was presented by a vet at my own teaching hospital, explaining why they didn't tell me to give it.

Doing more digging, I also found some additional materials and studies which gave me a historical trail of why these fats were originally thought to be good for our CIL dogs–alluded to in the above quote where Dr. Marks talks about how they are not portally transported directly to the liver.

This is a somewhat simplified, layperson's synopsis of what I found.  The original thinking (from a paper published in 1979) was that these fats BYPASS the lymphatic lacteals, which would make them digestible for dogs with lymphangiectasia. Research done much more recently has tested this theory and found it to be lacking. The evidence now suggests that these fats are digested in the body just like other fats are– meaning that they DO come into contact with intestinal lacteals and thereby have the potential to cause lacteal distention, just like other fats do.

Let's back up a minute and go back to my early days of researching this disease again. Along with lots of information suggesting that MCTs were a treatment of choice for this disease, I was also reading lots and lots of gloom and doom regarding the prognosis for this disease. There is actually a published paper which states that no dog has ever survived for more than two years after being diagnosed with this disease! Discussions about prognosis use words like "guarded" and "poor."

I have a mind that likes to put two and two together. We have a historically accepted and widely used treatment protocol which newer evidence suggests is perhaps not working the way it was originally believed to work and may, in fact, be harmful to our dogs.

We have a lot of vets out there prescribing this treatment, and a lot of dogs not making it past two years. It does not require a huge leap in my own mind to begin to wonder if there isn't a causal relationship between these two things. The image that comes to mind is one of a doctor giving poison to all of his patients and then lamenting the fact that none of them live very long.

You'd think that, now that we have evidence that suggests that this treatment is not necessarily useful, and may in fact be harmful, all the vets would be lined up to cross it off their lists of treatment protocols. But that's not really how it works. Another thing I wrote in an earlier post that I'm going to quote:

Quote:

I work in a research department in a University (also UC Davis, in fact) dealing with human medicine, and I know how long it takes for important findings in human medicine to become accepted practice among clinicians treating human patients. It's something like 10-20 YEARS! That's not the kind of time we have to wait for our vets (or our doctors, for that matter) to catch up on the latest evidence in treatment protocols, so we need to do our research on our own and present the evidence we find to our vets in order to educate them. Hopefully we can guide them to make better informed treatment decisions, but some vets will dismiss anything that wasn't handed down to them by their own mentors in veterinary school. So at that point we just make the best decisions we can.

Do I know for sure that MCTs are a treatment we should avoid at all costs? No. I don't think there is sufficient evidence to say with 100% certainty that MCT makes CIL dogs sick every time it's given. But I respect the mounting scientific evidence and the opinions of the researchers more than I respect the opinions of clinical practitioners who are not doing research on these diseases and are not treating (or saving) large numbers of patients who have this disease.

My gut instinct tells me that the heavy reliance on MCTs by veterinarians treating this disease may be killing more dogs than not. I would love to see more research being funded and conducted on this, but until I see more definitive proof that it helps, I will not recommend it on this forum and I will not hesitate to comment when I see it mentioned by others.
I should point out here that, although I don't advocate their use, I do know that some have used them without apparent problems.  It's worth mentioning here that the guiding principle of treatment is always to do what works for your own dog.  If you are using these products and your dog is in a good remission, do not change what you are doing.